"In my decades of experience in the lighting industry, this is the most exciting product that I have ever seen.  I am impressed with the creativity and knowledge of the team at Limbic Media and I am thrilled to be partnering with them" — Darren Vader, CEO, Lumyn Immersive Media
Interactive Drum Organ
The Drum Organ is an Aurora-powered interactive musical installation featured at Summerfest 2018. Passers-by use a touch-pad keyboard to trigger sounds and light interactions from a series of light pipes.
The installation was designed by Marty Peck of Creative Lighting Design & Engineering, LLC and assisted by Michelle Klein. The design was also supervised by Eppstein Uhen Architects and built by CG Schmidt, Inc., Staff Electric, Michael's Signs, and Mainstage Theatrical Supply, Inc. It is under the direction of Milwaukee World Festival, Inc, and sponsored by American Family Insurance
Location: Milwaukee, Wisconsin, USA
Prismo Chandelier
The Aurora-powered interactive Chandelier is a permanent fixture in the lobby of VIATEC (Victoria Innovation, Advanced Technology and Entrepreneurship Council). VIATEC is the hub of Victoria's $6 Billion high-tech industry, it serves many roles including, providing co-working space, running accelerator programs and mentoring for start-ups, and hosting industry workshops and courses. VIATEC were looking for an activation that would create a memorable experience for their many visitors and residents including a variety of tech industry investors and executives.
"Anybody can go online and order a color changing light bulb that connects to an app, but what about 500 of them suspended together that are sound responsive, interactive, frequency driven, percussive. That's not something you get on Amazon, you need to work with real artists and real innovators to do that. We are really excited about what that says to the people we work with and what is provides them"
– Dan Gunn, CEO Viatec 
Singing Tree
Interactive art installations benefit cities—they help foster a sense of community placemaking and increase foot traffic to areas of a downtown core to improve public safety and local business. Singing Trees invite the public to interact with a lighting scheme in real-time by singing, clapping, or yelling, creating an unforgettable and magical experience for participants.
The Aurora-powered Singing Tree has been deployed in a number of cities around the world.
"We had many people saying that they didn't think this would be as impressive as I was trying to explain……..after the fact most of those expressed how impressed they were and there certainly was a 'WOW factor', which they didn't expect. We placed clear signage at the bottom of the tree, instructing people how it works and obviously that really worked……there were always people around the tree! Many people took pictures, sang and made music under the tree…..the tree even lit up  when a police car with siren drove by!" 
– Ineke Boekhorst, Executive Director, Maple Ridge BIA
Locations: Global (including New York, Los Angeles, Vancouver, Prague)
Helix
Introducing Helix, an interactive 3D sculpture powered by our Aurora platform. Helix loves to hang out at Special Events, Festivals, and Hotel/Corporate lobbies and brings a sense of magic and WOW wherever she goes.
The design (size and form) of helix is customizable given its bendable aluminum frame and can be installed outside in all weather conditions. Want one?
Walk-through Immersive Forest Tunnel
This walk-through tunnel was installed at the annual Canyon Lights event at Capilano Suspension Bridge park in North Vancouver, BC. The tunnel was the highlight of the magical forest walk experience that attracted over a 100,000 visitors. The Aurora platform was used to power the tunnel with pattern's designed to maximize the architecture of the structure.
Location: Vancouver, BC, Canada
Interactive & Immersive Tunnel
The Immersive & Interactive Tunnel @ THEMUSEUM gave guests an unparalleled, deeply emotive experience. Driven by the Aurora System, children (and some lucky adults) were given the magical powers to create a lighting show in real-time by playing the piano. Using the Aurora app, it was easy for THEMUSEUM to setup the display themselves, dialing in colors, effects, and specific parameters that govern how the music effects the lights. Furthermore, when there is no piano playing, music can be streamed to the tunnel to bring it to life.
Location: Kitchener, ON, Canada
Interactive Public Art Wall
Limbic Media was hired by Belford Properties to realize the first of three Aurora-powered, high-impact interactive art installations near British Columbia's largest shopping centre, Metropolis at Metrotown. The Interactive Public Art Wall mapped LEDs over a graphic background to simulate rainfall. When viewers make donations to a coin box for a local organization, they are rewarded with a light show—literally "making it rain."
"With the addition of these beautifully installed LED lights around the drawings on the wall, we are able to raise public awareness not only in the daytime but also attract lots of attention at night. Our Art Wall has soon become a popular sight visiting point in the area which gives us chances to interact with the public. The lights are one of the key elements in this charity fundraising event." 
—Chris Ba, Belford Properties
Location: Burnaby, BC, Canada
Creative Retail Facade Lighting
Western Canada's largest Canadian Tire store harnessed the power of the Aurora system to design and build a high-impact, low-cost, facade lighting experience to attract more attention to the store. The store owner can easily modify the lighting design and effects using the Aurora mobile app. Aurora's interactivity features can also be used for their special events.
" We were looking for a high-impact display to grab attention from pedestrian and car traffic in front of our store location. The Aurora interactive lighting display gave us the attention we wanted in a big way. App control makes it easy for us to design and customize the colors and lighting effects, keeping the installation fresh and engaging. Feedback has been very positive. The installation provided the "shopper-tainment" value we were looking for!"
—Justin Young, Associate Dealer, Canadian Tire
Location: Victoria, BC, Canada
TED 2018 – The Age Of Amazement
TEDGlobal needed to amaze their high-profile guests at the TED2018: Age of Amazement Conference. Two Aurora-powered, sound-responsive canopies were installed at the Vancouver Convention Centre alongside traditional scenic lighting to create a large-scale, immersive effect.
"We worked with Limbic Media to install an Aurora lights activation at the opening night of TED2018. It was important to bring innovative and cutting-edge ideas to this crowd, and Limbic Media helped us to do this.
The Aurora lights were a huge hit, wow-ing this VIP crowd as they changed colour in time with the music, and added an additional layer of immersion as they rapidly change colour coinciding with our fireworks display. As an added bonus, we love working with the Limbic team – their can-do attitude, amazingly creative ideas, and high customer service levels never disappoint."
—Emma C. Parston CMP, Partner, Connect Seven Group
Location: Vancouver, BC, Canada
Piano Chandelier
Aurora-powered, 3D Chandeliers add a sophisticated and modern 'WOW' factor to any space. This specific design was commissioned for Chris Donison, renowned composer and director of Music By The Sea Festival. Shaped to a grand piano, the 3D lighting array responds intelligently to the frequency and rhythm of a piano performance. The piano chandelier's inaugural performance was at the Victoria International Marina.
"Aurora! I love her, she lights up when i enter the room"  – Chris Donison
Location: Victoria, BC
Globes Garden
A world-renowned botanical garden wanted to bring in a cutting-edge interactive art installation to wow their guests during an annual winter light-up event. Aurora performed a real-time, 2D-mapped light show with the garden's sound system music lined-in. No technical expertise or custom programming was required.
Location: Victoria, BC, Canada
Voice Recognition Based Retail Experience
We had the opportunity to partner with Arc & Co to design and build an interactive booth experience for Blanco at the International Design Show 2020 in Toronto, Canada. The interactive multimedia booth was awarded 'Best Booth' at IDS 2020.
Limbic Media's Aurora platform was used to coordinate a high-tech multimedia experience that gave Blanco an edge at IDS 2020.
Aurora's voice recognition system was programmed to respond to a specific grammer of spoken words used to trigger animations on the video screens and output elegant architectural LED design. Aurora's LED output was used to light up a large diffuse cube engineered and built by Arc & Co. Users were given a unique interface through which to 'wish'  for a variety of product options.
Are you looking for novel ways for your clients to experience and explore your products?
Location: Toronto, ON, Canada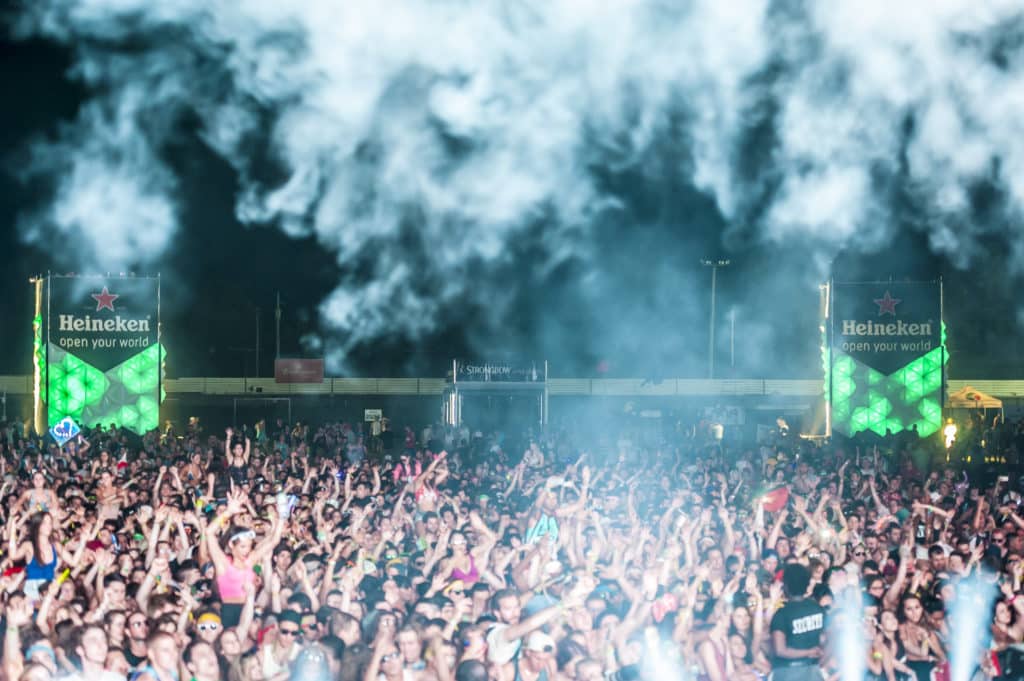 Large-Scale LED Towers
Limbic Media worked with Hfour Productions and Heineken to bring two large scale, Aurora-powered LED towers to the Escapade Music Festival. Festival attendees were invited to sing into a microphone and interact with the installation. The towers created a popular focal point over the course of the festival.
Location: Ottawa, ON, Canada
Burning Man Rainbow
An Aurora-powered rainbow was installed at Burning Man 2017's centre camp with support from the Phoenix Rainbow Project. Integrate Aurora into festival installations to engage attendees.
Location: Black Rock City, NV, USA
Distant Grand LED Wall
Distant Grand, a two-piece live electro-soul band, wanted an intelligent and unique lighting solution to amp up their live performances. Limbic Media helped them design and build an Aurora-powered LED wall that responded in real-time to their music.
"Going from concept to design to final build was a total breeze using the Aurora system. Its real-time capabilities allow us to spend less time thinking about the lighting and more time making music!"
—Jess Brown, Distant Grand
Location: Victoria, BC, Canada