A New Economic Driver of Vitality and Growth
Creating walkthrough experiences in downtown cores or on private property has become a new engine for economic growth and vitality. People want to get out, ditch their screens and become immersed in a transformative environment that takes them away from the ordinary and puts them at the center of a story.
Especially post Covid, collectively, we have learned that being locked down is difficult on the psyche, that too much screen time is bad for our health, that public spaces, both urban and natural, are critical for our well-being, and that social connection is a must.
While there have been many "walkthrough" experiences for the Christmas season in botanical gardens for a long time, it is only recently that these kinds of experiences are using specific themes that are not holiday related and are made for year-round use.

Moment Factory has been an industry leader, pioneering experiences around the world with their Luminas walkthroughs. Each of their Luminas has a specific theme and storyline related to the location. Each walkthrough is also unique in its own way in terms of interactive and lighting elements (making them expensive, but more on that in a bit).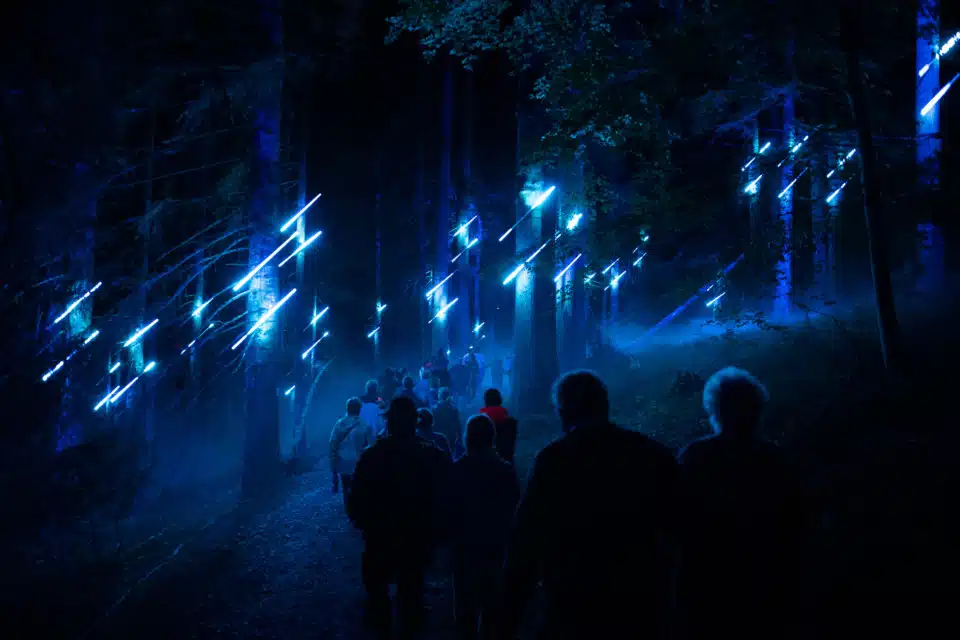 We don't exactly know the economic returns of their Luminas, but their continued expansion of them means that they are doing well: 7 in Canada, 3 in Japan, 1 in Singapore, 1 in the USA, and 1 in France. The hosts are likely making quite a bit of money, otherwise, they would not continue their growth.
What we did find was one of their Luminas in Quebec drew 222,450 visitors to the region who spent $48 million dollars in one year. No wonder these experiences continue their strong upwards momentum.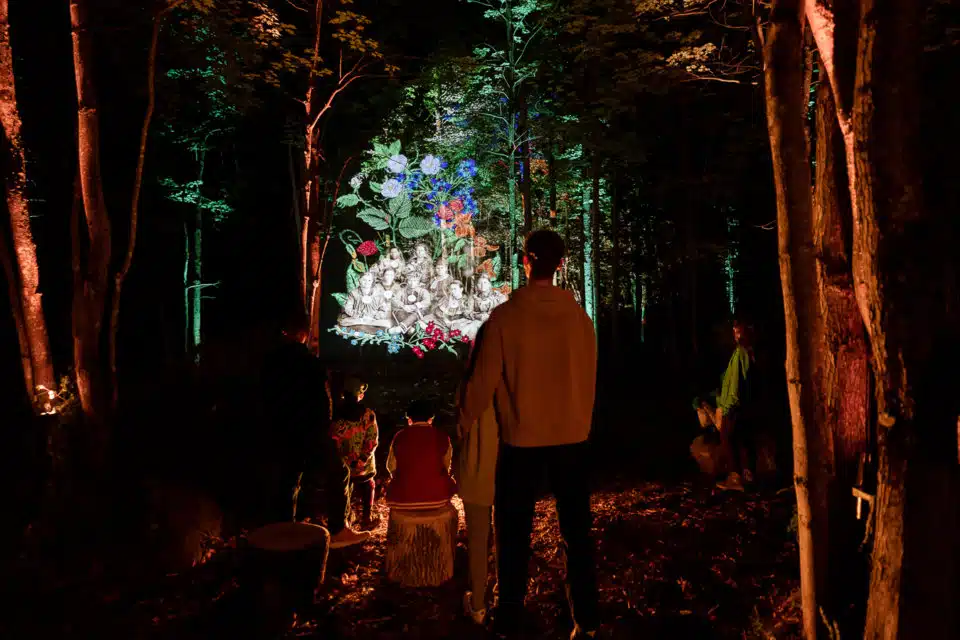 There need to be reasons for people to stay an extra night in a town, and interactive walkthrough experiences are giving people this reason which directly funnels money back into local economies.
Governments are seeing the economic impact on regions and are ponying up grants to establish these experiences in order to drive tourism dollars. The Canadian government awarded Chandler, Quebec $700K to create Nova Lumina to support Tourism in the Gaspe region.
Meow Wolf is another top dog hitting it out of the park with their high-end experiences. While they are not outdoors, they have developed incredible works of imagination and creativity. Their first walkthrough project, House of Eternal Return in Santa Fe brought in millions of dollars their first year. After a series B raise of $158 million in 2019, they are having a significant economic impact in the areas in which they operate.
In their opening year in Santa Fe, they projected to get 125,000 visitors. They got that number in their first three months. They made 3X the projected annual revenue – $9 million in 2017. It became the most Instagrammed place in New Mexico.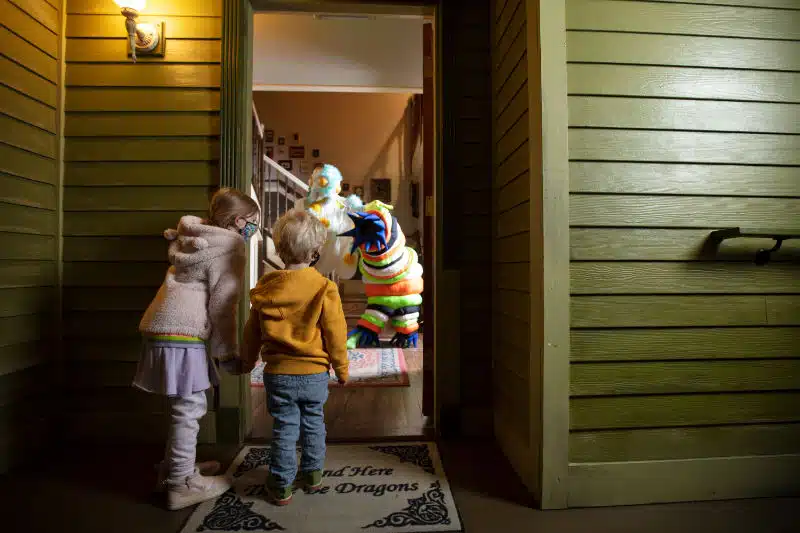 The Meow Wolf experience, Omega Mart, in Las Vegas has sold 600,000 tickets since its opening in 2021. Their new experience that opened in late 2021 in Denver presold 100,000 tickets. Clearly, the public can't get enough. They are projecting over a million visitors annually. At $35-$45 per ticket, that is excellent revenue for an art company.

It is the economics that makes cities sit up and take notice. That is precisely what happened in Salerno, Italy. Years ago, a European Holiday lighting company, MK Illumination, asked Salerno to create an experience through the streets that were 1 km long. Initially, the city was resistant and took convincing. After giving in, they found that in the first year, they made $4 million in coffee sales alone. Talk about an economic driver for the months between Jan-Mar. It is now 27km long and draws guests from across the region.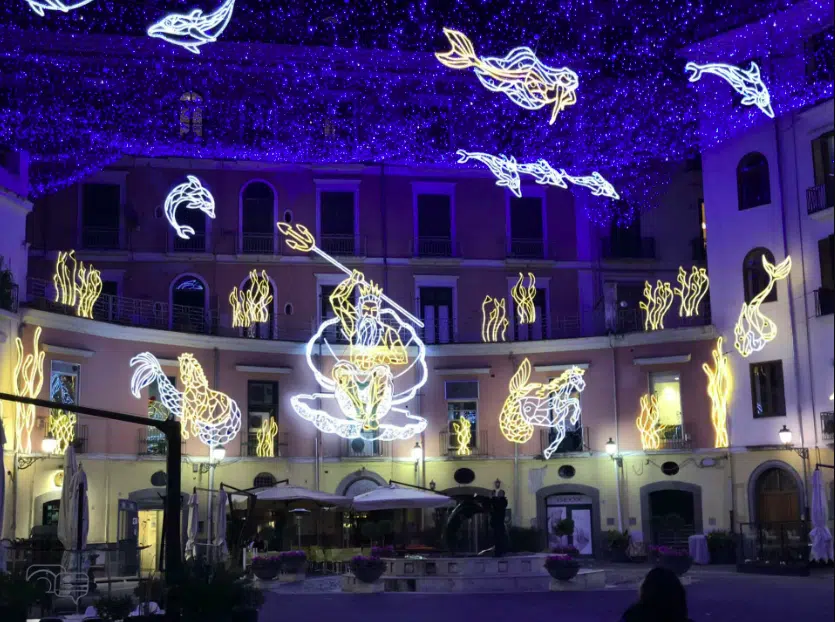 Limbic Media's outdoor walkthrough experiences are built upon our Aurora platform, which gives us the advantage of not having to start engineering from scratch. This allows us to do it more cost-effectively for clients as well as change elements throughout the years. The economics of our walkthrough experiences has also been positive with our clients selling out every weekend for the entire run. We can't stress enough that people are hungry for these experiences, which translates into good economics for a city or region.
Obviously, these kinds of experiences are great for tourist areas where there is constantly a new influx of people all the time. However, we can argue the greater significance for regional towns, especially smaller locales that can pull people in from surrounding big cities. These smaller cities usually have summertime draws like music festivals to pull in dollars, but the Jan-Mar timeframe is a desert for economic activity. Creating an experience in the more economically challenging parts of the year that attracts thousands of people puts money into local businesses.
For locations like Ski Hills, it is easier to program activities during the day in the winter: skating, skiing, etc. But what is there to do at night? Answer: a walkthrough experience. It is another successful revenue driver for the town or private ownership. Guests don't want to just sit in their hotel room once the day is done. They want to get out after dinner and have a unique experience on their holiday. Something they can't wait to tell everyone about when they get home.
This is all part of a rising tide effect. The more people experience how captivating these activations are, the more they want them. We want to help give them one. Please contact us to learn more about how we can help you.
Limbic Media specializes in interactive, engaging light-based experiences. If you are looking to revitalize your public space, we are here to help; please get in touch.