Only weeks after dusting off the saddles from our inaugural Las Vegas trade show experience – Limbic Media was back on the road. This time on a mission with Tourism Victoria to prove to the world (or at least Ottawa and Toronto) that Victoria is a great place to host a technology event.
You wouldn't think this was necessary considering that Victoria is home to over 900 techology companies and that these companies collectively generate over 3 billion dollars in annual revenues (yes that's billions). Word is slowly getting out – a recent Vogue Magazine article referred to Victoria as Tectoria (a brand created and promoted by the fine folks at VIATeC). Still most of the outside world doesn't know that Victoria has become a major technology center. Sometimes the only way to get the word out is to get off the island and go talk to folks.
Tourism Victoria had a game plan – bring a group of Victoria based event planning professionals to meet with their peers in Ottawa and Toronto and pitch why they should consider Victoria as a potential destination for their next big technology event. Limbic Media was brought on board to dazzle them with some local tech talent.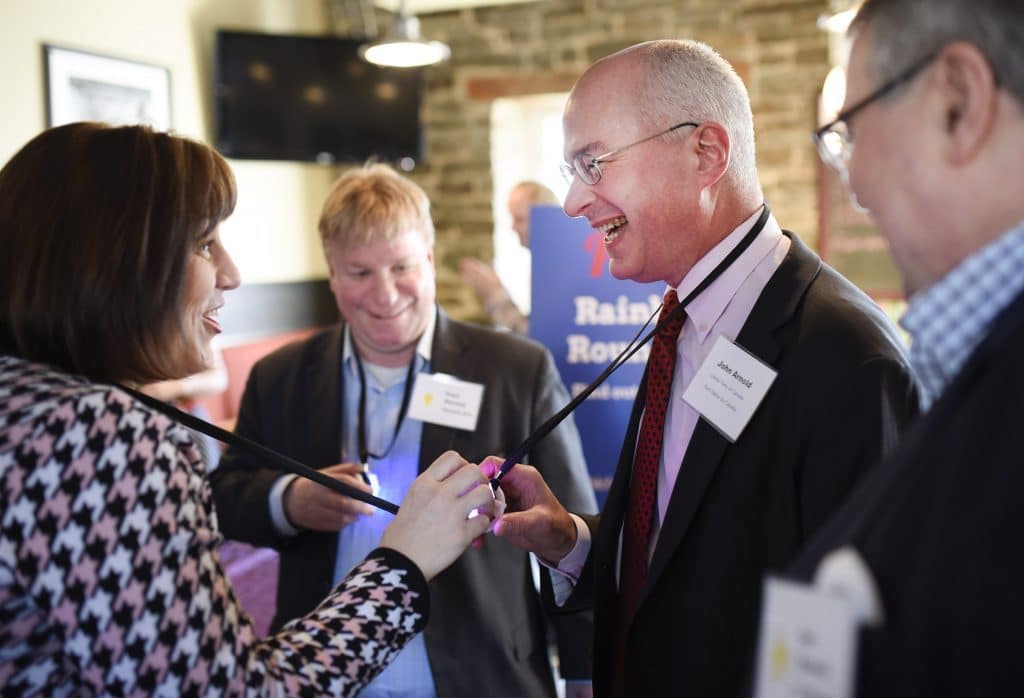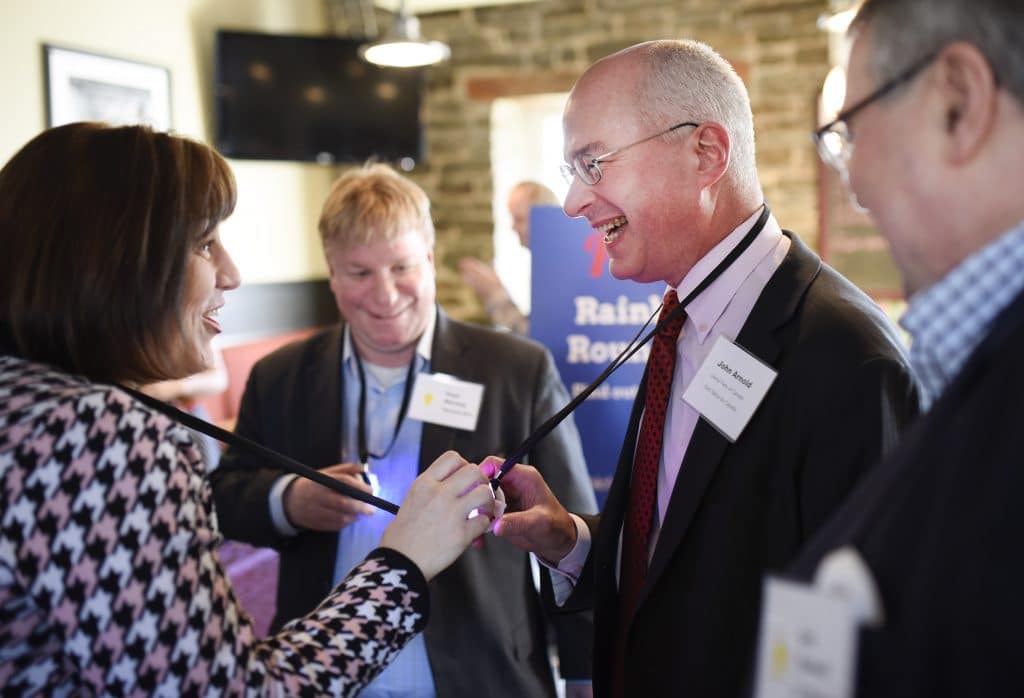 Our journey began at the Mill Street Brewpub in Ottawa. The pub is located in a 140 year old converted mill located right on the Ottawa river. One of the largest challenges faced when hosting events like this is how do you encourage people to interact with other attendees that they don't know? If you were at the recent 2016 VIATEC awards (we were a finalist for Innovative Excellence) you would know that Limbic Media has designed a product to specifically overcome this problem. Social Wearables is a technology platform designed to playfully encourage people in groups to meet each other. At the brewpub we gave each of the event planners a wearable and had them play a game called "Rainbow Roundup". In Rainbow Roundup each participant is given a wearable light pendant in one of six colours that is capable of sharing its colour with another pendant. The goal of the game is to "round up" all of the colours by holding them against other pendants. To encourage people that didn't know each other to connect we made sure that the event planners from Victoria had different coloured pendants than the local event planners. It is amazing to see how a simple and fun technology can transform an event.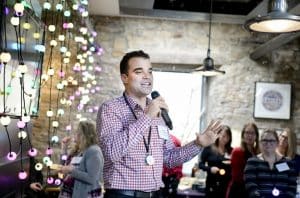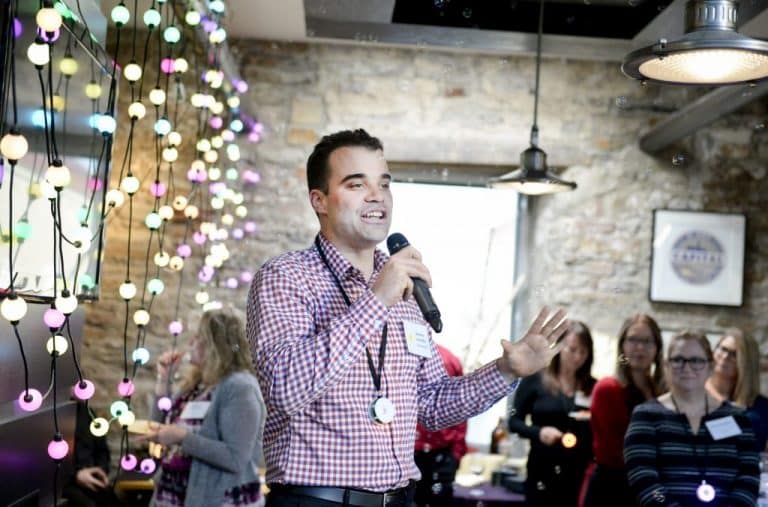 In addition to the Social Wearables we were also asked to bring Limbic Media's Aurora™ lighting system. Aurora™ is a lighting system that changes colours and patterns based on the sound in the environment. When we heard that Victoria City Councillor and internationally renowned poet, Jeremy Loveday, was going to deliver a poem about Victoria – we knew we had the perfect product to complement his work. The result was a perfect marriage of human talent and technological innovation and a showcase for what makes Victoria so great.
The result was impressive as each word spoken by Jeremy caused the lights to emphasise the intensity and emotion of the words he was speaking adding an element of magic to his performance.
The final stop on the road trip was Toronto. This time the the meetup took place in a super cool venue – a large converted bank vault. In addition to Social Wearables and Aurora™ we had one additional technological trick up our sleeves to wow the locals with – a custom voice controlled multimedia installation called "Show me" created by Limbic Media for Tourism Victoria. To use the installation a person chooses a phrase from a list of possible choices and says the phrase into a microphone located in front of a screen. When spoken each phrase triggers a multimedia slideshow featuring elements of the selected phrase on the screen in front of speaker.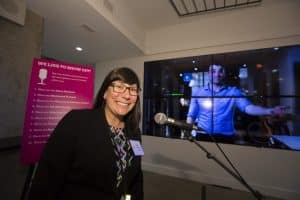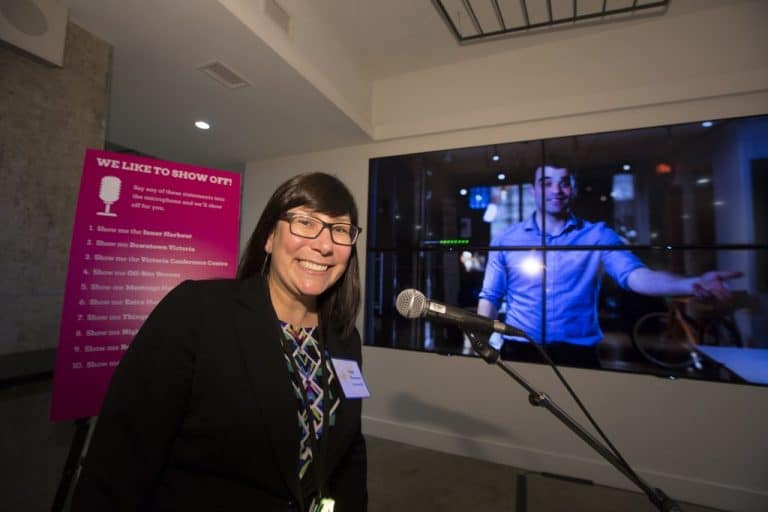 The installation was popular and proved to be a great way to get people to engage with targeted content in an interactive and playful way.
"Show me" is easily customizable with other phrases and multimedia content – please contact Limbic Media if you are interested in having one at your event! So was our trip a success? Tourism Victoria thinks so and for me when I heard the phrase "I can't believe you guys are from Victoria" spoken repeatedly during the course of the two events I knew we had succeeded.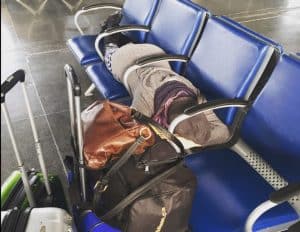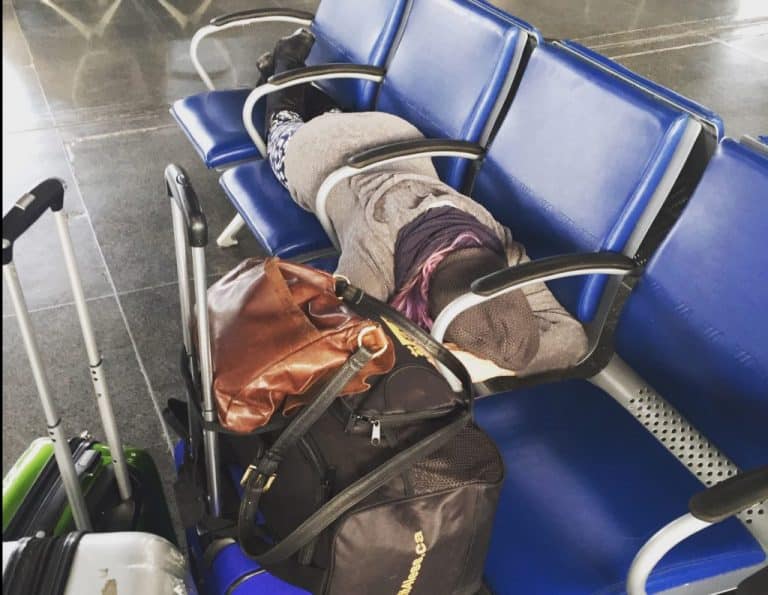 To end I'll leave you with an image I captured on our way home of an exhausted Limbic team member thwarting the anti-sleeping technology at the airport – demonstrating that with enough creativity and gumption you can overcome any obstacle in your path. Special thanks Emma C Parston for believing in us!