Over the last year we had the pleasure of starting work on a very interesting and totally ridiculous project. We were tasked with building "The Worlds Largest Musical Instrument". Sounds cool right?
So basically it is a wirelessly controlled system where a piano keyboard sends its note data to a set of, very loud, distributed air horns. Each air horn is connected to a compressed air scuba tank and is totally standalone, meaning it has its own battery, and wireless receiver and can be placed up 10 km from the location of the keyboard. So far we have built 12 of these horns, tuned specifically to the notes on a piano keyboard such that Oh Canada and God Save The Queen can be played with the system.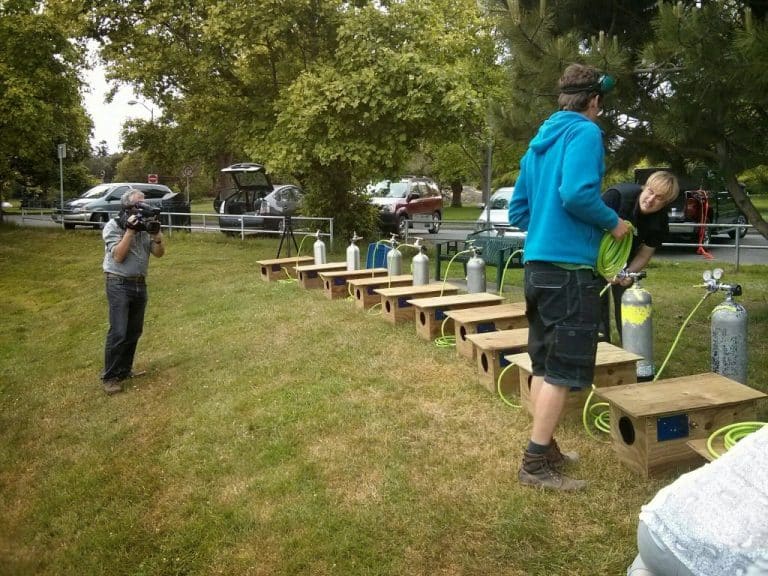 The system was installed and performed during the Music By The Sea music festival this summer out on 12 boats in the Bamfield Inlet, near the Bamfield Marine Sciences Centre. Big thanks to the local community of Bamfield for donating their time and boats to make this crazy experiment happen!
However, this is only phase 1. Over the next 2 years we plan to take this project international.  On Canada Day 2017 (Canada's 150th celebration) Oh Canada will be performed from Bamfield, Canada. The notes from the performance will be transmitted in real-time over the internet, not only to sets of boat horns all over Canada, but around the world! At which point it will be "The Worlds Largest Instrument"
This insane idea/concept and funding for the project was brought to us by the Music By The Sea music festival and the Director our good friend, genius composer and inventor Chris Donison. Watch The Ted talk at TedX Victoria 2015, to hear about the project in his own words.
If you enjoyed that…
please also check out this short documentary chronicling the project so far and describing the overall vision. Big thanks to Cedarwood Productions for making the film.