An immersive and inspiring experience is exactly what is needed in this uncertain and stressful time as much of the world deals with the ongoing global pandemic. Finding safe activities to do, especially ones that leave a positive and remarkable memory, in an effort to stay connected with friends and family is especially important these days.
Combining a bonding moment through learning is an ideal way to spend an evening experiencing something new. Interactive public art installations, such as the one set up at Blue Mountain Village in Ontario during the month of October, provide the perfect opportunity to interact with culture, nature, and history, evoking reflection and contemplation using artistic expression and advanced technologies in both hardware and software.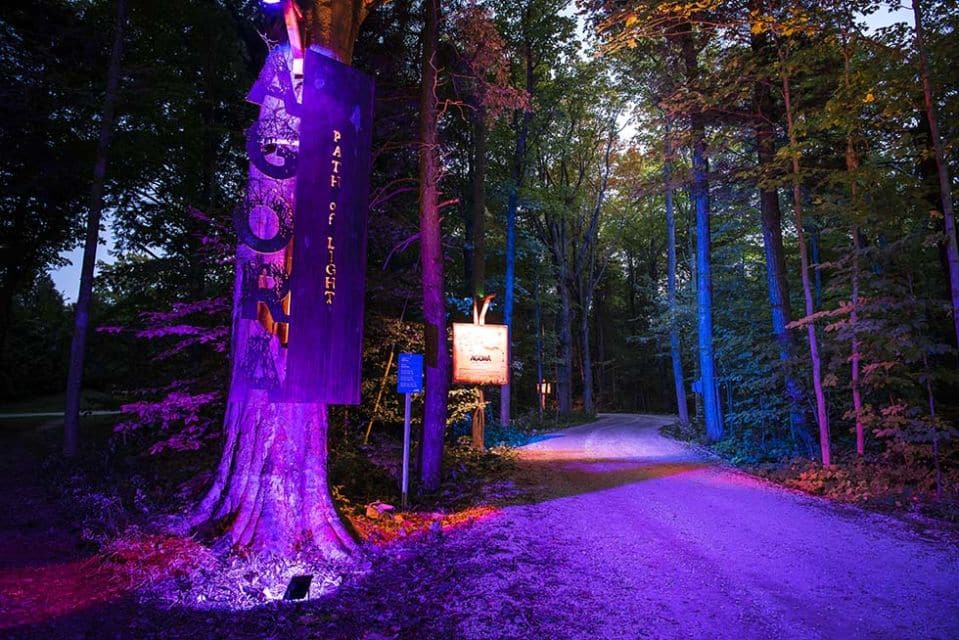 AGORA: Path Of Light At Blue Mountain Village
Blue Mountain Village's lighting installation, "AGORA: Path of Light," creates a cultural experience that is both unusual and magical. The word "agora" is a term from ancient Greece that refers to open public spaces that were often used for markets or community gatherings. Inspired by this concept and imbued with the cycles of life in nature, participants walk a circular path through the forest on Blue Mountain. On this route, they encounter a series of interactive lighting systems that feature the five elements of air, space, earth, water, and fire.
AGORA provides an exploration of five different elements, combined into an evening's walk through the forest. Featuring an open-air gondola ride before a three-kilometer walking loop, visitors stop at North Wind to engage with air, The Dream to see space, Sabia to connect with earth, Aqua to feel water flow, and Hearth to warm by the fire. Created in partnership with an artistic director and spoken word artist, as well as Indigenous members of the local community, AGORA is a full sensory discovery of nature.
Embarking on this journey of learning, participants can communicate with and see AGORA come to life through the languages of light and sound. The outdoor setting contributes to the allure of the activity, allowing visitors to walk through the installation at their own pace, maintaining a safe distance, and following other health and safety guidelines.
This type of activity is ideal for families, couples, and anyone else that is in search of a special opportunity to learn through a multi-sensory interactive experience.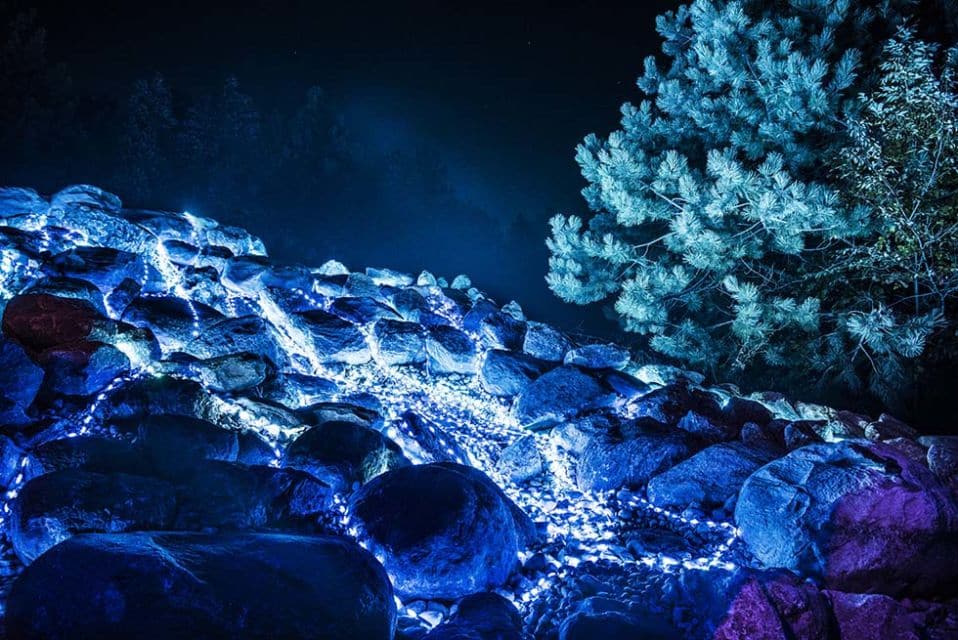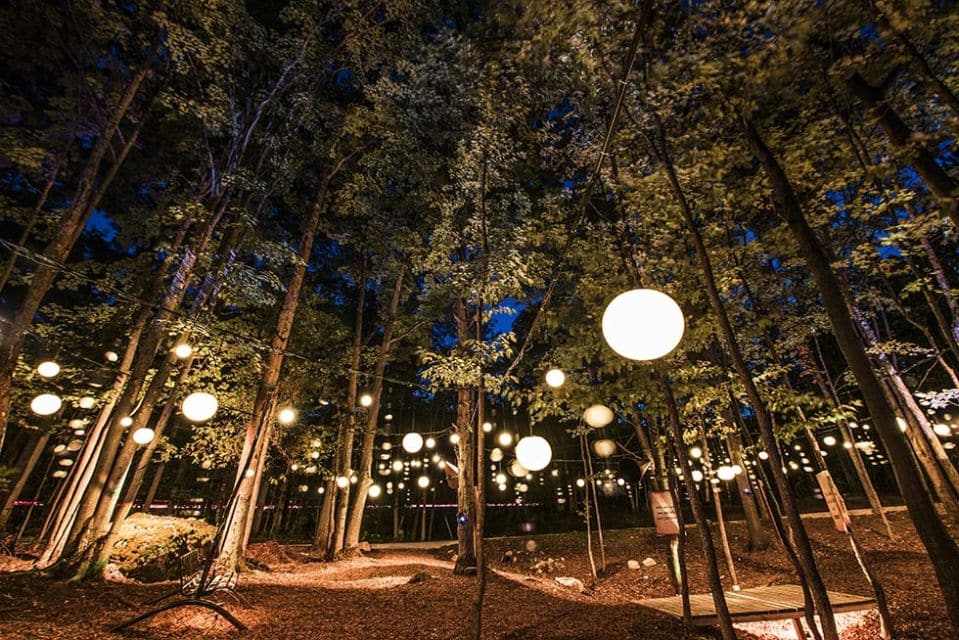 Creating The AGORA Interactive Lighting Design
The AGORA installation at Blue Mountain was put together by a group of talented people in multiple industries across the country. The engaging result is the work of multiple contributors, including:
• Limbic Media from Victoria BC, world leaders in interactive art and light technology,
• Edesia Moreno Barata – Concept Designer & Artistic Director, most notably recognized for her work with Cirque du Soleil,
• Marie Metaphor Specht – Poet and Spoken Word Artist,
• Jeff Monague – Ojibwe language professor and writer,
• Grey Cloud/James Carpenter – Anishinaabek healer and advisor for this project, and the talented group at Blue Mountain Village.
Together, this team has brought the spirit of the forest and natural outdoor surroundings to life through light, sound, and leveraging the relationship between how humans learn as they experience both simultaneously.
At night, lighting installations like AGORA have the ability to create an all-encompassing atmosphere using technology to tell a story and mesmerize visitors.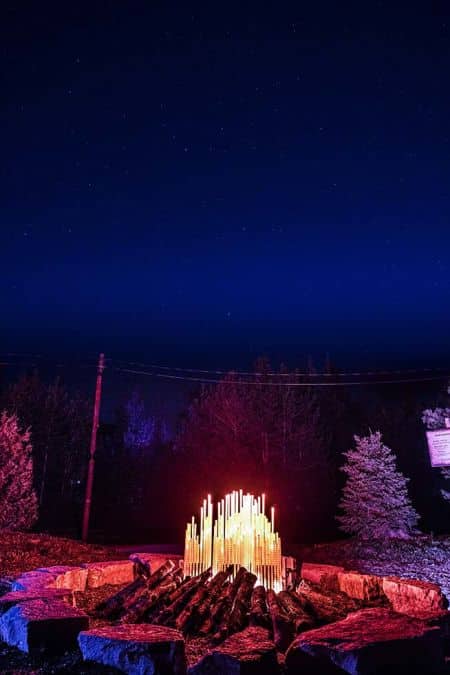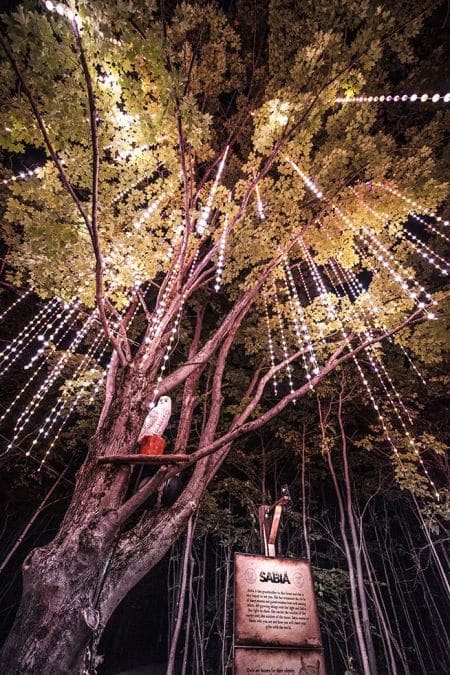 Made With Limbic Media's Aurora Platform
Using Limbic Media's Aurora platform technology, a lighting control system that adjusts both lighting and sound, the ambiance created can represent what defines an area or neighborhood and is able to highlight aspects of nature, history, or another storytelling narrative. This smart system can "listen" to sound the way a human can and is able to respond by adjusting light and color patterns.
Walk-throughs like AGORA provide an opportunity for municipalities and organizations to put together an unforgettable event that also maintains current health guidelines. Designing a walk-through installation allows for directive control of the route and can be planned in such a way as to incentivize visitors to spend more time in a particular area. During these moments of pause, visitors can learn more about the history, natural setting, or any other storytelling element through voiceovers, riddles, interactive screens, and other ways to engage using light and sound. Specific reactions like surprise or awe can be provoked, leaving visitors with unique memories that can be cherished long after the activity ends.
These types of engaging installations also have the ability to incentivize window shopping and can be used to attract customers to other public spaces, such as shopping malls. As the holidays get closer, alternatives for safe festive celebrations, like an outdoor holiday light show, could also help community organizations create experiences to bond and connect community members.
Contact Limbic Media to get started on a new interactive lighting project for your community, organization, or event, or subscribe to our newsletter to stay connected!